The Korean striker is sent out on loan to the Spanish side in hopes of reviving his career. 
---
---
Kim Bo Kyung to Cardiff City
There's strong inclination that 22 year old Kim Bo Kyung will be headed to Cardiff City for around €3M. Stay tuned. In the previous campaign, Kim netted seven goals in 15 appearances with Cerezo Osaka. Stay tuned. 
---
---
Park Ji Sung is moving to Loftus Road. Rumors in Asia also say Ki Sung Yeung may join him at QPR. This can be interesting. 
---
---
The 2002 World Cup Korea National Team will celebrate their 10th anniversary by playing against the K-League all stars this July. The 2002 World Cup brought about an explosion of interest in the beautiful game in Korea, leading to successful stints of its players in Europe, and paving the way for future generations of Koreans in the bigger stages of football.
---
The real problem behind Arsenal's woes. 
Yo Wenger use your zipper bro
---
Nam Tae Hee to Qatar
Nam Tae Hee, a promising young footballer who played for French Ligue 1 side Valenciennes, has recently switched sides to Qatar club SC Lekhwiya. A lack of playing time in France has led to the recent move. 
---
Ji Dong Won puts the sword to Man City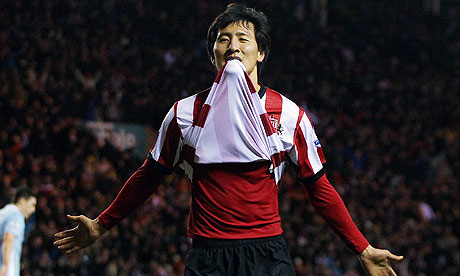 20 year old Ji Dong Won, a substitute striker for Sunderland, put in a late goal for a dramatic win against top-of-the-table Man City. Martin O'Neill hailed as "one of the most important goals I can remember". 
Despite the heroics, Ji has only started one game in the Premier League for Sunderland this season. There's interest in taking Ji on loan from other clubs, but O'Neill is adamant that he still has a part to play at the Stadium of Light.
---